Send Inquiry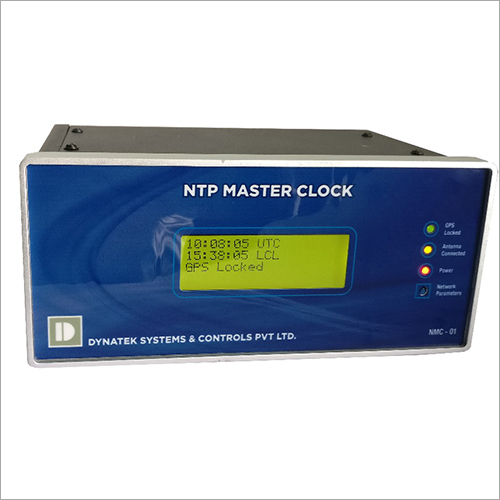 Product Description
INTRODUCTION
1.0.1 DESCRIPTION :
NTP Gps MASTER CLOCK designed for the applications where accurate synchronize time is required.
Accurate time clock plays an important role to improve productivity of your work place, Increase employee accountability for managing time, Increase efficiency with employees starting and ending their day on time, Improve
time –tracking accuracy, even throughout multiple facilities.
DYNATEK NTP MASTER clock is capable for the time synchronization requirements in various industries like Pharmaceutical, Power, IT, Process, Telecommunication, Studios and
many other sectors.
DYNATEK NTP MASTER CLOCK has a 20 x 4 LCD display for viewing of time parameters i.e LTC and UTC, status of GPS receiver Connected or Not connected, discrete LEDs in front panel provide status information. The GPS Clock is based with highly accurate built-in RTC chip backed up with on board "Lithium battery" to maintain time during power loss and instant recovery on power resumption.
DYNATEK NTP MASTER CLOCK is connected to GPS through GPS antenna. It receives "Time stamp" from satellite and correct the time of RTC.
DYNATEK GPS clock is a Stratum1 GPS based full featured NTP Server for synchronizing all types of NTP and SNTP clients in LAN i.e. PCs, SNTP/NTP slave clock, Weighing scale, Differential Relays,
NTP MASTER Clock provides secured access for device configuration through
Window based utility. Through that user can configure all NET related parameters i.e
IP address , Sub netmask, Gateway , Device Name.
Features:
 12 Satellite parallel tracking
 20 x 4 LCD Display with Status LED's
 USB Port.
 Universal Time-zone and Local Time zone
 Supports synchronization NTP/SNTP protocol
 Universal (AC/DC) Power Supply
 Highly accurate RTC with Lithium Battery Backup
 All weather proof GPS Antenna
 NTP Client Synchronization software
 Supporting Timing Protocols: SNTP/NTP
Application:
Time synchronization of:
 Sequence of event recorders, Disturbance recorders
 Numerical relays,
 Windows servers PC
 PC /PLC/DCS/SCADA,ABT metering
 Telecommunication
 EMS system, Fault locator
 NTP/SNTP slave clock
DYNATEK SYSTEMS AND CONTROLS PRIVATE LIMITED
Other Products in 'Digital Clock' category